Halifax says 'time to come home' after Yorkshire soldiers killed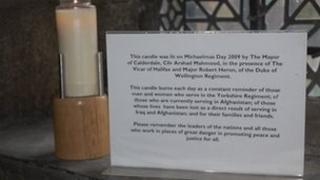 Residents of the West Yorkshire town of Halifax - the spiritual home of 3 Battalion, The Yorkshire Regiment - have been giving their reaction to the deaths of six British soldiers in one Taliban bomb.
And the response "enough is enough" is echoed by many.
Five members of the battalion and one from the Duke of Lancaster's Regiment were killed in the blast in Kandahar province on Tuesday.
Senior army and intelligence officials in Helmand province have told the BBC the troops were killed by a powerful bomb that had been planted recently.
The historic colours of 3 Battalion, The Yorkshire Regiment, hang in Halifax Minster where a Book of Condolence opened on Thursday.
In the town, news that four of the young soldiers were from West Yorkshire brought a united response: "it's time to come home."
Cpl Jake Hartley, 20, from Holmfirth; Pte Anthony Frampton, 20, and Pte Daniel Wilford, 21, both from Huddersfield; Pte Christopher Kershaw, 19, from Bradford, were among the six killed.
Douglas Holt, aged 85, who lives at Sowerby Bridge, served in the last two years of World War II in the Royal Northumberland Fusiliers.
He said: "We've been there enough time, it's time to pull out and come home.
"We've got to look after our own first. The Russians tried out there for 10 years, it's ridiculous."
Mrs Jutta Watson, who works in the town's market, said she thought the deaths had brought the Afghan campaign to a head.
She said: "All these wars, it's terrible.
"We should come out and accept enough service people and civilians have died, it is a ridiculous situation."
In the streets around the town's market and Piece Hall there was an air of quiet resignation with some people saying they were too shocked and upset at the deaths of young soldiers from the area in Afghanistan to voice their reactions.
"Sorry love, but not now", was a common response.
But one market stall holder, Stephen Dill, a former Coldstream guardsman, said the deaths were felt deeply because of the Yorkshire Regiment's tradition of largely recruiting its troops in the area.
He said: "It's always a tragedy when soldiers die, but it's especially so here because it's a close-knit regiment and people locally are affected.
"I served in the Coldstream Guards who recruited from the whole of England, but this is bound to be felt by an awful lot of people here.
"I know four or five people who served in the Dukes (previously Duke of Wellington's Regiment that became 3 Battalion Yorkshire Regiment).
"I don't know yet if any of them have been affected."
As the doors opened at the town's black stone church, Canon Hilary Baker, the vicar at the Minster, said officials at the regiment had previously contacted the church before their deployment to arrange a service of memorial to take place later in the year.
Now the service will not only give thanks for the lives of those who have returned, but also remember the six who left for their deployment on Valentine's Day 2012 and will not be there to stand with their comrades in Halifax Minster.