Wakefield murder victims 'just normal girls', say neighbours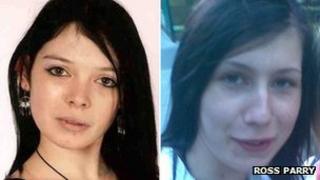 Two teenagers stabbed to death in a West Yorkshire flat were "just normal, everyday girls", neighbours have said.
Samantha Sykes, 18, and Kimberley Frank, 17, were found dead at the flat in Wakefield on Saturday after a tip-off from a woman in Dover, Kent.
A 19-year-old man was arrested by police in Kent in connection with the deaths and is still being questioned.
Stephen Ryan, 25, a neighbour of the victims, said the deaths had come as a "shock" to local residents.
The bodies of the two young women were found in a flat in Barden Road, Eastmoor, after police in Kent were contacted by a 19-year-old woman in the early hours of Saturday.
The first-floor flat and the surrounding area were sealed off for forensic tests, which are still continuing.
'Decent girls'
Post-mortem examinations carried out on Sunday evening revealed Miss Frank, who lived in Barden Road, and Miss Sykes, from Horbury, also in West Yorkshire, died as a result of stab wounds.
Mr Ryan, who said he did not know the women who died but occasionally saw them on the estate, said: "They just looked like decent girls really. Just normal, everyday girls you see around this estate,"
"My girlfriend knows one of the girls. She's been saying how these lasses were nice girls and didn't deserve it."
Lauren Gardener, 18, a school friend of Miss Frank, said the teenager was "very, very quiet" and spent most of her time with her sister.
A couple who live in a house across the road from where the bodies were found said there were often parties at the flats.
"There's always police vans out there, parties, loud music, all sorts of visitors, it's happening all the time, every week from Friday to Sunday."
Another neighbour, who also did not want to be named, said she believed Miss Frank had not lived in the Barden Road flat for long.
She said: "It's a shame, poor souls. It's terrible, horrible.
"You never think it's going to happen like this, not here anyway. It's not very nice on your own doorstep."