Radio Leeds Canal pedalo challenge has begun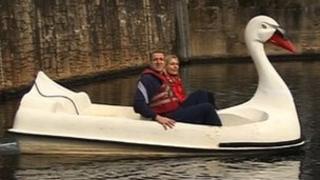 Any hopes that Radio Leeds breakfast show presenters Adam Pope and Katherine Hannah may have had of easing into the challenge will have been dashed by a closer inspection of the schedule, at 16.5 miles (26.5km), day one is the longest single-day distance they will cover.
And as one of only two days on the trip without any locks to negotiate, there will be very little chance for them to take a breather.
Their journey begins at Eldonian Village in Liverpool, an award-winning urban regeneration site in the centre of Liverpool, passing through Bootle and Maghull and ending at Haskayne in West Lancashire.
Adam Pope said: "This has been a real journey even before I set off.
"I'm fitter and stronger - the rest is all in my head now.
"Mentally, how tough am I to cope with what will be a massive challenge of endurance over the next 10 days?
"Seeing the donations roll in, hearing from the well-wishers and the causes for which we are pedalling has been really uplifting. The game's afoot now so there's no going back!
"I heard that the greatest inspiration is often born of desperation. Well my body feels desperate right now so I'm hoping the inspiration kicks in at any moment!"
His co-presenter Katherine Hannah added: "After months of planning and preparation the big day is finally here!
"Now comes the real test to see whether all the training we've done will be enough to get us through the next 10 days on the pedalo.
"I'm planning to take it one mile at a time, with regular cups of tea and biscuits to keep me going.
"And it's nice to think that every mile we pedal is a mile closer to home.
"Now we just need people to support us by donating money to Sport Relief, even £1 can make a massive difference. Do it now!!"
After a well-deserved rest, Thursday will see Adam, Katherine and Grace travel from Haskayne to Crooke, on the western side of Wigan.
It will be another long day for the pair, at 14.5 miles (23km), and the first chance for them to test out their lock-operating skills.
For safety reasons they will not be allowed to remain in Grace while she is towed through the two locks on this stretch of their route.
You can follow Adam and Katherine's progress on the BBC website, on BBC Radio Leeds 92.4 FM & 774 AM and on BBC Look North.