UK beacon saves Ilkley man in New Zealand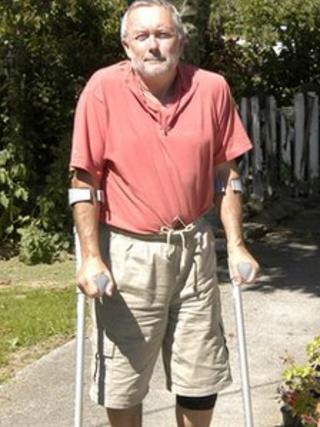 The family of a man from West Yorkshire who had become injured and stranded in a national park in New Zealand have revealed how a personal locator beacon started a rescue from the UK.
Former teacher Chris Painter, 61, used to live in Ilkley, but emigrated to New Zealand seven years ago.
He was on a solo trip to Kahurangi National Park and set off the beacon after injuring his leg.
The device was picked up by Falmouth coastguards.
Mr Painter was on a fishing trip when he damaged his knee and was unable to walk.
His SOS beacon was registered in the Falmouth coastguard area.
Coastguards contacted his next of kin, sister-in-law Susan Foster from Silsden, who told them about his trip.
Emergency contact
Within one hour and 20 minutes a rescue mission in New Zealand had located Mr Painter and brought him to safety.
Ms Foster said she was able to give the UK Maritime and Coastguard Agency enough details about Mr Painter's planned trip for them to advise officials in New Zealand.
She said: "I was called late at night two days after I had returned from visiting Chris in New Zealand.
"I was told I was the emergency contact listed when the beacon had activated and asked if I knew if Chris was at sea.
"I knew his plans to go fishing in the park, but not the exact location.
"Chris was carrying his equipment in the park when he suffered the injury."
Ms Foster said she was called again two hours later by Falmouth Coastguard who said Mr Painter had been found and rescued.
She added: "It was an hour and 20 minutes from pulling the pin to the helicopter landing near him.
"These devices cost less than £200, why would anyone go into the wild without one?"