M62 in West Yorkshire to close for 30-tonne signs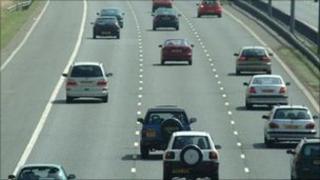 A section of one of the busiest motorways in the country is to be closed over the weekend to allow 30-tonne sign gantries to be installed.
Part of the M62 near Leeds, between junctions 27 and 28, will close for the work to take place.
The move is part of plans by the Highways Agency to allow the hard shoulder to be used as an extra lane between junctions 25 and 26.
The road will be closed from 2000 GMT on Saturday until 0800 GMT on Sunday.
The scheme includes "managed speed limits" between junctions 25 and 30.
Emergency refuges will be placed every 800m where the hard shoulder is in use.
A spokesman for the Highways Agency said further overnight weekend closures would be needed on sections of the M62 between Brighouse and Rothwell until November when the installation programme would be complete.
A total of 36 new overhead gantries are needed along the new managed motorway section. A further 16 existing gantries would be being upgraded to take new signs.
The agency said the £150m scheme would cut congestion, make journey times more reliable and improve safety through the use of variable mandatory speed limits and by opening the hard shoulder as an extra running lane.
The scheme is expected to open to traffic in 2013-14.