Lotto winning rapist's victim Shirley Woodman gets MBE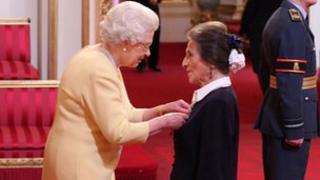 A woman who received compensation from a lottery-winning rapist has said receiving her MBE from the Queen was "overwhelming".
Shirley Woodman, from Leeds, ended two decades of anonymity to receive the honour.
Iorworth Hoare, jailed for life for attempting to rape Mrs Woodman, won £7m on the National Lottery in 2004.
She fought a lengthy legal battle for compensation, and was appointed an MBE in the New Year Honours.
The 82-year-old retired teacher was known only as Mrs A for 24 years after being attacked by Hoare in Roundhay Park, Leeds in 1988.
Mrs Woodman said: "It was very difficult to find my photograph being displayed but I know the only reason I waived my anonymity is because I was being [honoured] for something which had taken all that time to achieve, which was changing the law.
"I would not have revealed myself had the letter about the MBE not come."
She said her daughter, Shelley Wolfson, had urged her to be recognised while she was still alive, rather than posthumously.
'Unsuspecting end'
Hoare was jailed for life in 1989 for the attack on Mrs Woodman, but bought the winning lottery while on day release from prison.
He had previous convictions for rape, two other attempted rapes and three indecent assaults when he attacked Mrs Woodman.
She sued Hoare for damages when she heard of his win but he argued that victims of sex attacks must make their claims within six years.
In 2008, Mrs Woodman won a groundbreaking ruling from the Law Lords that, in cases of serious assault, courts would have the discretion to extend that limit.
She was later awarded compensation in an out-of-court settlement with Hoare.
After receiving her MBE at Buckingham Palace, Mrs Woodman said: "It's a totally unsuspecting end to what was a very sad incident."
She said despite her honour being for services to the community in Yorkshire, the Queen had known her story.
Mrs Woodman said: "She said 'I hear you have had a hard time.' I said 'Ah, you know about it, us changing the law' and she said 'Yes, it's very difficult to change the law'."