Day One: Radio Leeds Canal pedalo challenge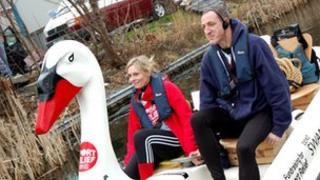 BBC Radio Leeds breakfast show presenters Adam Pope and Katherine Hannah start day one of their pedalo challenge.
The pair will travel all 127 miles (204km) of the Leeds-Liverpool canal in a swan-shaped pedalo called Grace.
Day One, Wednesday 14 March: Eldonian Village to Haskayne
Well, what a day. Any hopes that Adam and Katherine had of easing into the challenge were dashed by a closer inspection of the schedule.
At 16.5 miles (26.5km), day one was the longest distance they had to cover in a single day.
And as one of only two days on the trip without any locks to negotiate, there was very little chance for them to take a breather.
Their journey began at Eldonian Village in Liverpool, an award-winning urban regeneration site in the centre of Liverpool, passing through Bootle, Aintree Racecourse and Maghull and ending at Haskayne in West Lancashire.
They had been due to finish at around 16:30 GMT but it was pitch black by the time they reached their overnight stop, several hours late. Quite a baptism of fire for the guys.
Adam said: "I knew it was going to be tough, but not quite that tough.
"We'd set ourselves a target of two miles per hour, but early on it became apparent that that was optimistic.
"Seeing so many people come down and wish us well made all the difference, it made it even more worthwhile.
"I've no doubt tomorrow will be just as tough, but things will hopefully look better after a good night's sleep."
Katherine said: "Nothing had quite prepared us for this.
"I thought my fitness regime ahead of this had been hard, but this was something else.
"I've got aches in muscles I didn't even know I had.
"The highlight for me though was the chap who lived by the canal who used his fishing pole to give us a cheque for Sport Relief. Things like that made all the pain a bit more bearable.
"Bring on another 14 miles tomorrow," said Katherine.
After a much needed and well-deserved rest, Thursday will see Adam, Katherine and Grace travel from Haskayne to Crooke, on the western side of Wigan.
It will be another long day for the team, at 14.5 miles (23km), and the first chance for them to test out their lock-operating skills.
You can follow Adam and Katherine's progress on the BBC website, on BBC Radio Leeds 92.4 FM & 774 AM and on BBC Look North.