Day Two: Radio Leeds Canal pedalo challenge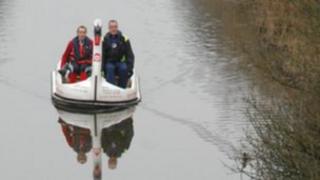 BBC Radio Leeds breakfast show presenters Adam Pope and Katherine Hannah start day one of their pedalo challenge.
The pair will travel all 127 miles (204km) of the Leeds-Liverpool canal in a swan-shaped pedalo called Grace.
Day Two, Thursday 15 March: Haskayne to Appley Bridge
Day Two of the ten-day challenge was due to see Adam, Katherine and Grace travel 14.5 miles (23km) from Haskayne in West Lancashire to Crooke village, a couple of miles west of Wigan town centre.
After Wednesday's gruelling schedule, and serious doubts over their ability to finish the day, the decision was made to call a halt 2.5 miles early just after Appley Bridge locks. Those miles will be added onto Friday's schedule.
Katherine said: "I had a bit of a moment at lunchtime where it all just got a bit much and I had a bit of a sob.
"This afternoon I've had a massive bar of chocolate and we've had the music on and the restorative power of a bit of Wham has sorted me out.
"I'm slightly better now but we're both a bit broken today. Please keep donating because it is literally the only thing that is keeping us going," said Katherine.
Adam said: "When we heard earlier that our fundraising had gone over £4,000 it was a real vindication of all the hard work that's gone into this.
"I feel like someone has just gently taken a crowbar every hour to every one of my joints.
"I was bad last night but I'm feeling as bad today."
So it has been another tough day for the team, but a great feeling to tick the miles off.
After a day spent largely in the Lancashire countryside, the team will see a change of scenery on Friday as they enter Wigan.
Due to a closure on the canal, Adam and Katherine will have to abandon Grace and run the six-mile stretch from Wigan Pier to Sennicar Bridge instead.
You can follow Adam and Katherine's progress on the BBC website, on BBC Radio Leeds 92.4 FM & 774 AM and on BBC Look North.