Day Three: Radio Leeds Canal pedalo challenge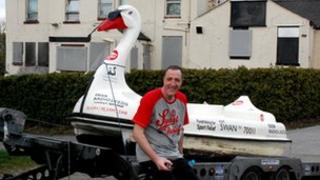 BBC Radio Leeds breakfast show presenters Adam Pope and Katherine Hannah start day one of their pedalo challenge.
The pair will travel all 127 miles (204km) of the Leeds-Liverpool canal in a swan-shaped pedalo called Grace.
Day Three, Friday 16 March: Appley Bridge to Adlington
Friday was a real change of scenery and pace for Grace and the team as the flat Lancashire countryside gave way to more built-up areas around Wigan.
A closure on the canal meant that Katherine and Adam had to abandon ship and run six miles instead, while Grace got the luxury-treatment and was transported by van.
After the closure it was back on Grace for the remaining three miles to the team's overnight stop at the White Bear Marina at Adlington.
Adam said: "Today was my toughest day so far. I feel pretty good physically but mentally I had a bit of a moment when my wife Denise rang BBC Radio Leeds with some words of encouragement.
"I had to run six miles where the canal was closed which was difficult. Everything was churning inside.
"To know we've raised £5,000 in donations has given me an extra boost today."
Katherine said: "No doubt about the highlight of the day for me - seeing my mum and dad waiting for me at the finishing point in Adlington.
"Today was a weird day with doing the pedalling, then running, then pedalling again.
"I'm a bit worried about tomorrow, it looks like being a really long day," said Katherine.
Three days down, only another seven to go.
Hoping for a good night's sleep - the team's first on the narrow-boat - with another challenging day ahead.
Saturday sees the team travel the 14 miles from Adlington to Nova Scotia in Blackburn.
You can follow Adam and Katherine's progress on the BBC website, on BBC Radio Leeds 92.4 FM & 774 AM and on BBC Look North.