Day Five: Radio Leeds Canal pedalo challenge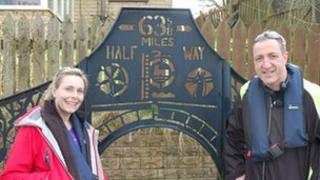 BBC Radio Leeds breakfast show presenters Adam Pope and Katherine Hannah are on their pedalo challenge.
The pair will travel all 127 miles (204km) of the Leeds-Liverpool canal in a swan-shaped pedalo called Grace.
Day Five, Sunday 18th March: Nova Scotia to Rose Grove
No letting up for Adam and Katherine with another 13 miles (21km) under their belts from Blackburn to Burnley, via the rolling hills of the Lancashire countryside.
It was tough going, but the team got a real lift as they reached the half-way point of the canal, while a succession of friends, colleagues and well-wishers joined them along the way.
Katherine said: "I was ready to give up and go home this morning.
"Cold, missing home and very fed up with a long day of pedalling ahead.
"But then lots of people came to see us, including my parents, my boyfriend, friends from work and loads of well wishers which made the afternoon much better.
"Reaching halfway was a big moment, we're on the home run now and back in Yorkshire very soon."
Adam said: "A tough day for me - maybe not so much mentally, but physically. My right hamstring was giving me a lot of pain and for the first time I had problems sitting down in the pedalo.
"But it was great to have many people come down to see us, some travelling several hours just to come down and walk alongside us for a while.
"Seeing my family was great, I hadn't seen my kids in five days. My son Cameron had a turn pedalling and my daughter Danielle had raised even more money for Sport Relief. Reaching the halfway point of the canal was a real boost too, as was seeing the money roll in."
Five days and 55 miles to go now for Adam and Katherine until they return to Leeds. Two big things to look forward to on Monday as they pass through the Foulridge tunnel and go over the Burnley Embankment, one of the wonders of the waterways.
You can follow Adam and Katherine's progress on the BBC website, on BBC Radio Leeds 92.4 FM & 774 AM and on BBC Look North.