Day Six: Radio Leeds Canal pedalo challenge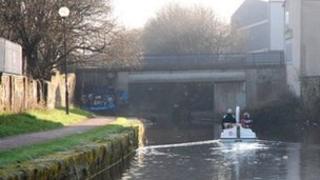 BBC Radio Leeds breakfast show presenters Adam Pope and Katherine Hannah are on their pedalo challenge.
The pair will travel all 127 miles (204km) of the Leeds-Liverpool canal in a swan-shaped pedalo called Grace.
Day Six: Monday 19 March, Rose Grove to Greenberfield Locks
Over onto the Yorkshire page of the team's well-thumbed map of the Leeds-Liverpool canal and they are homeward bound now.
The last full day in Lancashire was a tough one for Katherine and Adam with an eight-mile stretch before their first proper rest-stop at Barrowford Locks.
And while they had hoped to pedal through the mile-long Foulridge Tunnel, they were forced to abandon ship for safety reasons and travel through the darkness by narrowboat instead.
Adam said: "It's been pretty hard today, the eight-mile stretch was tough. I wish we'd been allowed to pedal the tunnel, but it wasn't to be. And then the five-mile stretch at the end almost finished us off.
"The only things that can stop us now is if the swan goes or our knees go.
"No way anyone is going to stop us now. We've had our wobbles but then you just remember that there are people in far worse places than us."
Katherine said: "The fear starts to set in when it gets dark because it reminds us of Day One when we didn't finish until 8pm and pedalling in the dark is just so miserable.
Yorkshire Day
"It's so nice to see people down on the towpath giving us support and hopefully when we get back into Yorkshire even more people will come down and cheer us home.
"It would be great if we could get some big businesses to put their hands in their pockets for Sport Relief like some of the people we've met who haven't got much, but who've given us a few quid."
The team have a bit of a spring in their step ahead of Tuesday, which they have dubbed Yorkshire Day.
They'll cross over into North Yorkshire and will be joined by Look North weather-man Paul Hudson for a stint in the pedalo.
Tuesday is the longest of the route at just under ten hours, with 15 locks to negotiate.
You can follow Adam and Katherine's progress on the BBC website, on BBC Radio Leeds 92.4 FM & 774 AM and on BBC Look North.