Huddersfield Kingsgate Shopping Centre expansion 'to create jobs'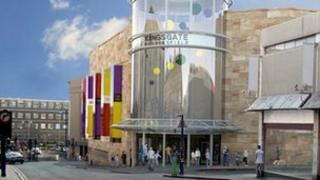 Plans have been unveiled for the £40m expansion of a Huddersfield shopping centre which owners say could create more than 900 jobs.
WD Huddersfield, which owns the Kingsgate Shopping Centre, wants to increase its floorspace by 50%.
It also wants to double the amount of parking spaces to 1,200.
The company has signed a memorandum of understanding with Kirklees Council, which says the scheme is important for the town's economic growth.
The shopping centre opened in March 2002.
Un-tapped potential
WD Huddersfield said the expansion would result in the creation of more than 600 full and part-time jobs as well as an estimated 300 in construction.
Managing director Peter Everest said: "Huddersfield is a successful and thriving town, but something of a sleeping giant and in the face of fierce competition it cannot stand still and must advance to ensure its facilities match other towns, while shouting louder to ensure that its voice is heard.
"I'm pleased to say that there are investors, as well as ourselves, who see the so-far untapped potential of the town and are ready to support our investment in Huddersfield."
Councillor Mehboob Khan, leader of Kirklees Council, said: "We know that improving the retail offer is important to our residents and this expansion fits part of a wider plan for attracting investment to create the environment for economic growth.
"The council is working closely with [WD Huddersfield] to make this happen, not only because of its importance to Huddersfield's positioning in the retail hierarchy and future economic wellbeing, but also because of the hundreds of jobs that will be created, both in the construction phase and when the extension is complete."