Bradford soldier Martin Bell given posthumous George Medal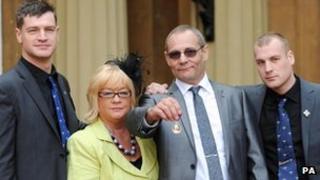 The father of a paratrooper who was killed while trying to help a wounded friend has described his pride at receiving his posthumous George Medal.
Pte Martin Bell, 24, from Bradford, was serving in Afghanistan when he disobeyed an order not to move from his position and saved his comrade's life.
But as he helped to move the injured man he triggered a bomb and was killed.
His father Simon, who received the medal from the Queen, said: "To say I'm proud is an understatement."
'Amazing son'
Mr Bell was joined by his wife Elaine, and their two other sons, Philip and Oliver, at Buckingham Palace.
He said: "He touched so many hearts in his 24 years, if I live to be 424 I'll never do the same - he was just an amazing son."
The George Medal is awarded for gallantry not directly in the face of the enemy.
Pte Bell, from 2nd Battalion the Parachute Regiment, had been ordered not to move after the initial explosion that wounded his comrade but he made his way over to his friend across open ground where more bombs were thought to be hidden.
The paratrooper managed to stop the bleeding from the remains of Pte Scott Meenagh's legs and give him painkillers.
But as he helped to pull the injured soldier's stretcher up a steep bank he triggered a bomb and was killed near the village of Spoor Kalay in the Nahr-e-Saraj district of Helmand province in January last year.
Mr Bell said: "In my mind I think he thought he would make it, and if the shoe was on the other foot I know the other guys around him would have done the same.
"Every doctor we've talked to said Scott would have died if Martin had not done what he did and applied the tourniquets."
Speaking about their meeting with the Queen, Pte Bell's mother said: "It was absolutely amazing, it was fantastic. We were all so nervous, she just puts you at ease.
"She said she'd read his citation and that he was a very, very brave man."
Mrs Bell joked: "He never obeyed orders," then added: "They were like his brothers and he would never have left his brothers."