Day Nine: Radio Leeds canal pedalo challenge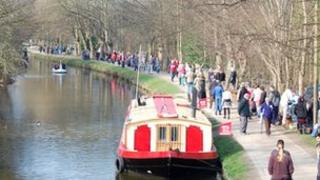 BBC Radio Leeds breakfast show presenters Adam Pope and Katherine Hannah are on their pedalo challenge.
The pair will travel all 127 miles (204km) of the Leeds-Liverpool canal in a swan-shaped pedalo called Grace.
Day Nine: 22 March, Bingley to Apperley Bridge
The end is almost in sight for Adam and Katherine after the penultimate day of their 10-day challenge.
It started off in the mist and cold at Bingley in the morning but ended in beautiful sunshine at Apperley Bridge, with hundreds of people along the canal cheering them on.
Adam said: "Today was one of the toughest mornings - my hamstring is tight as an archer's bow.
"There was a stretch around Esholt where we both were in a lot of pain and we were desperate for the next lock to appear on the horizon.
"As it did, so did hundreds of people and that just left me really elated.
Katherine said: "Amazing news this morning when I heard that I had become an auntie for the first time, especially considering my sister was walking along the towpath the day before!"
"That's really helped and made me want to get to the finish line."
So after a gruelling nine days battling with pain and fatigue, Adam and Katherine will complete the nine miles from Apperley Bridge to Granary Wharf in Leeds, which they hope to reach at 18:00 GMT on Day 10.
The team is looking for people to support them all along the canal on the last leg of their mammoth journey.
You can follow Adam and Katherine's progress on the BBC website, on BBC Radio Leeds 92.4 FM & 774 AM and on BBC Look North.