Museum hope for post-medieval find in Ackworth garden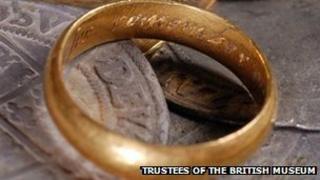 A hoard of potential treasure uncovered in a back garden in West Yorkshire could be housed in a nearby museum.
An inscribed ring, 48 gold coins and 543 silver coins, buried in a ceramic pot, were found by an Ackworth resident as they were digging in their garden.
Wakefield Council said it expected the hoard to be declared as treasure by a coroner at a hearing next Tuesday.
The council said it had expressed a formal interest in acquiring the items for Pontefract Museum.
The items, which are more than 300 years old, will be valued by the Treasure Valuation Committee after the coroner's hearing.
The council said it would apply for external funding from national bodies to raise funds to buy the items.
A spokesman said if the hoard went on display at Pontefract Museum it would "contribute to the history of the area, providing a focus for learning activities and giving the museum a major attraction".