Solicitor, Michael Rigg, jailed over theft from elderly client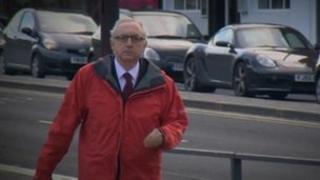 A solicitor who stole more than £50,000 from an elderly client has been jailed for 26 months.
Michael Rigg, of Carlton Mount, Yeadon, took money from accounts belonging to an 84-year-old family friend who suffers from dementia.
The 60-year-old had known his victim for 30 years and stood to receive half her estate when she died.
Rigg had pleaded guilty to three counts of fraud by abusing a position of trust at Leeds Crown Court in February.
The court was told Rigg began using the victim's money after he was granted power of attorney in 2007 when she went into a care home.
While the power of attorney documents allowing him to act on behalf of his client were drawn up correctly, Rigg never registered them.
'Son-like figure'
The victim had also drawn up a will with a different solicitor naming Rigg as a 50% beneficiary.
Rigg withdrew nearly £51,500 from three building society accounts and a Post Office account over a period of three years.
Mark Foley, defending, said his client was "a man of modest means" who spent the money on donations to the church and charity, his mother's nursing home fees and payments to people "in financial need".
He said: "There is no evidence of this money being spent frivolously."
Mr Foley told the court that Rigg could not explain why he had taken the money.
He said: "One possibility is he was getting his money out before it was spent on nursing home fees."
Mr Foley added that Rigg considered himself as being "a son-like figure" to the victim.
'Vulnerable victim'
Rigg was arrested in 2011 when staff at the Yeadon branch of the Leeds Building Society became suspicious.
He initially told police he had given some of the money to the victim but later admitted he had used it for his own purposes.
Recorder Tahir Khan QC said: "It was against a vulnerable victim and in these circumstances it is difficult to imagine somebody being more vulnerable and in need of protection.
"You were in a position of great responsibility and trust."
The court heard Rigg had repaid the money and proceeds of crime proceedings were also under way.
Det Insp Steven Taylor, of West Yorkshire Police, said: "This is a bizarre case with no real motive. The only thing that we found was this was easily accessible money.
"He used his client and friend's money for his own piggy bank."