National Police Air Service base in West Yorkshire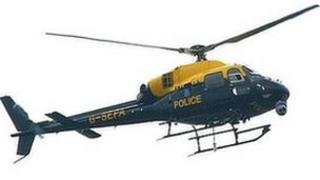 West Yorkshire is to be the home of the new National Police Air Service (NPAS) for England and Wales, the county's police authority has confirmed.
The NPAS, which will see police forces sharing helicopters, is expected to become operational later this year.
West Yorkshire Police Authority said it had approved a proposal to host the air service, subject to certain conditions.
Under the plan, all police air support operations in England and Wales will be run by the West Yorkshire force.
'Big implications'
A co-ordinated police air service was expected to improve operational effectiveness and save money for all those forces taking part, West Yorkshire Police Authority said.
Mark Burns-Williamson, who chairs the authority, said hosting and co-ordinating the NPAS would be an "ambitious and complex" project for the force.
"It has big implications for us going forward, but we recognised that West Yorkshire Police is well-placed to deliver this service on behalf of all forces in England and Wales."
Mr Burns-Williamson said authority members had been reassured that there would be no "adverse impact" on the force or council taxpayers in West Yorkshire.
"Our approval is subject to full costings being obtained and an assurance from the chief constable that all foreseeable risks are properly identified and mitigated," said Mr Burns-Williamson.