Mark Kermode at Bradford International Film Festival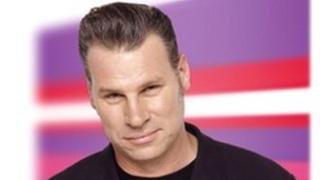 Mark Kermode is bringing his band's "militant skiffle" to the Bradford International Film Festival.
The BBC film critic said: "I've played in bands for longer than I've written about films."
His four-piece skiffle band, the Dodge Brothers, will be playing live to a 1928 classic film, Beggars of Life, along with pianist Neil Brand as part of the festival.
Kermode, who plays double bass, is looking forward to a day that will tie two loves of his life - film and rock 'n' roll - together.
He said: "You will see five musicians making it up as we go along.
"We don't know what we are going to do until we start.
Lots of questions
"Playing with Neil Brand got us involved in playing along to silent films, people have got the idea it was just solo musicians but local bands would play along with films in the past.
"We had lots of questions at the start of playing along with the films, such as how we all changed key together.
"We started out with strict cues but we've been working with this film for about 24 months and you just get to know what we're doing.
"If I can see Neil's left hand on the piano I know what key he's in and if the band can see my left hand on the upright bass they know what's happening.
"It's different every time we do it."
Kermode, who has got more and more interested in roots music, said: " I hate the idea that skiffle is a novelty in some people's minds, as a band we are actively working against that.
"In fact there's that quote of Billy Bragg when he said 'Skiffle is proto-punk' and I think that's true."
It will be a busy day on 21 April as Kermode will also be busking outside the National Media Museum and appearing onstage interviewing actor Ray Winstone for the festival.
'Heart-stoppingly' brilliant
Kermode's role as a film critic has seen him attend the Bradford festival in previous years and he said: "When I started as a film critic I realised you have to see everything.
"I see as many films as I can, I watch up to 12 films a week."
Kermode said that being a film critic is a job that throws up big contrasts.
"Every now and then I have seen a heart-stoppingly brilliant film, sometimes I have to sit through the soul-crushingly awful ones.
"The job is a great privilege. It is possible to walk in to the cinema knowing only the title and nothing else.
"I know people spending their hard-earned cash at the multiplex just can't do that. They have to know something about the film.
"When I see a terrible film I console myself by thinking: 'Yes, but what might I be doing'."
After his day in Bradford, Kermode and the band, who have just returned from a recording session in the legendary Sun Studio in Memphis, USA, will jump into a van and drive straight to Cambridge to provide their unique musical backing at another film festival.
But after all as Kermode said: "It's not like working."
The 18th Bradford International Film Festival is at the National Media Museum from 19 April until 29 April.