West Yorkshire Police warning over internet 'fine' scam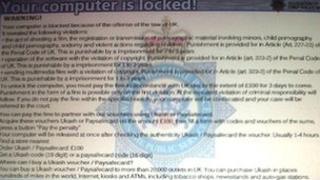 Internet users are being warned not to fall prey to an online scam which claims to be a message from West Yorkshire Police demanding money.
The fraudulent message says the user must pay a fine by contacting an email address or telephone number.
The force said 20 people had so far reported receiving the threatening message, but it was aware that others had fallen victim to the scam as well.
Anyone receiving the message should ignore it but report it, police said.
'Very deceiving'
Internet users who had received the message while surfing online reported being suddenly faced with a locked computer and a message which, at first glance, appeared to be from West Yorkshire Police.
The message clamed police had identified them as having illegal activity on their computer.
It used "convincing legal jargon" to demand the user pay a fine of varying amounts or face court, said police.
Det Insp Fran Naughton, from the force's Economic Crime Unit, said the scam was "very deceiving", using West Yorkshire Police's crest and logo.
"This is not how we operate when it comes to illegal computer use and we are liaising with other forces across the country to trace those responsible," she said.
The scam has affected web users in other parts of the country but has only recently come to light in West Yorkshire, police said.