London Marathon end of endurance challenge for Jane Tomlinson's family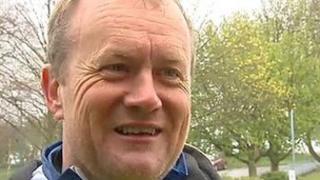 The husband and daughter of fundraiser Jane Tomlinson have ended their mammoth endurance challenge at the 2012 London Marathon finish line.
Mike Tomlinson and his daughter, Becky, ran the Paris Marathon and cycled 412 miles (663km) to London, via Yorkshire.
The challenge was in memory of Mrs Tomlinson who died in 2007 after raising millions of pounds for charity while suffering cancer.
Mr Tomlinson said it marked 10 years since his wife ran the London Marathon.
Mr Tomlinson, Becky, and five others who undertook the challenge suffered flu-like symptoms throughout, but were determined to finish the Marathon.
Mr Tomlinson finished with a time of 4:47:57 and Becky's time was 4:29:43.
Altogether in their endurance challenge, they cycled 412 miles (663km) and ran 52 miles (84.39km) - a total of 464 miles (747km).
Before the London Marathon, Mr Tomlinson said: "This day 10 years ago changed Jane's life and changed our lives as well. There's no way we would be here if it wasn't for Jane.
"She battled so hard and so long, we wanted to celebrate today by being here and doing a bit of an extraordinary challenge ourselves."