Pte Daniel Wilford funeral: 'Outstanding' soldier remembered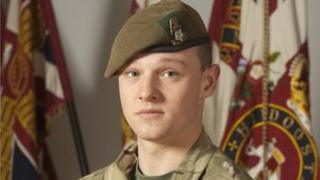 A West Yorkshire soldier who was killed in a bomb attack in Afghanistan has been described as a "quiet, unassuming character" at his funeral.
Pte Daniel Wilford, 21, of 3rd Battalion The Yorkshire Regiment, died alongside five colleagues while on patrol in Kandahar province on 6 March.
His funeral service was held at Huddersfield Parish Church.
Pte Wilford's commanding officer, Maj Malcolm Birkett, said he was an "outstanding guy to be around".
Maj Birkett added: "[He was] a fantastic shot that really, really epitomised everything that is right about the infantry soldier.
"He was one that certainly grew in confidence in the time that he was with us and, more importantly, that confidence exuded on to everybody else.
"Because of his standard of shooting on the Warrior, everyone wanted to be on his team."
Hearse applauded
Hundreds of people lined the streets outside the church and applauded as the hearse carrying Pte Wilford's coffin, draped in the union jack, drove past.
During the service vicar of Huddersfield, the Rev Canon Simon Moor, read out a tribute from Pte Wilford's friends.
It read: "Wilf could always light up a room with his smile. He had a heart of gold and the generosity of a millionaire.
"We have lost part of the family that can never be replaced but he will always be remembered."
The funeral of Pte Wilford's friend, Pte Anthony Frampton, 20, who also died in the attack, was held at the same church on Wednesday.
Speaking of their friendship, Maj Birkett said: "They thought well of each other, they looked out for each other.
"They went to Afghanistan together, the only grace and favour in this is that they die together as friends."
Also killed in the attack were Cpl Jake Hartley, 20, Pte Christopher Kershaw, 19, and Pte Daniel Wade, 20, all also of 3 Yorks, and Sgt Nigel Coupe, 33, of 1st Battalion The Duke of Lancaster's Regiment.
The soldiers, who had only been in Afghanistan a few weeks, were killed when their Warrior vehicle was blown up by an improvised explosive device about 25 miles (40km) north of the capital of Helmand province, Lashkar Gah.