Waterless Leeds West Point flats residents move out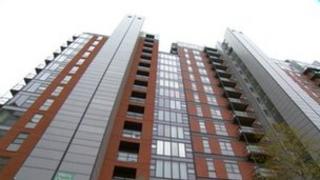 A number of residents in a Leeds apartment block who have been without water for four days say they have moved out.
Water to all 353 apartments in West Point in the city centre was turned off at about 09:00 BST on Wednesday because of a fractured pipe.
Residents who spoke to the BBC said they had moved out because no definite date had been set for repair.
Mainstay said it could not start repairs until Tuesday at the earliest.
Flat owner Tim Arnott said he had moved in with his parents in York.
"It's completely horrendous. You just can't live like that.
"I heard that it's going to be another couple of days to fix and that wasn't even a definite time scale either, it was just an estimate."
'New problem'
Rob Wilson, who rents an apartment in the affected block, said he and other tenants had moved to nearby hotels until the issues were resolved.
"I've been following a blog which was set up by residents. I've actually got more information from that than I have from Mainstay. They haven't communicated much."
A statement on Mainstay's website said a secondary pipe burst on Saturday had caused the delay.
"The water supply was reinstated at 10am (on Saturday), and pressure was gradually being built up.
"All was in order for 75 minutes, however at 11.15am a new problem arose that has resulted in the water supply being disconnected once more.
"We apologise for this and realise the inconvenience this causes you.
"Regrettably, and after much consideration, it has been confirmed to us that we will not be able to begin any reinstatement works until Tuesday 8th May 2012, at the earliest.
"This is dependent upon the availability of parts and fittings, which won't be known until Tuesday morning."
The company added that it was providing drinking water and portable toilets.