Final push to urge shareholders to save Unity House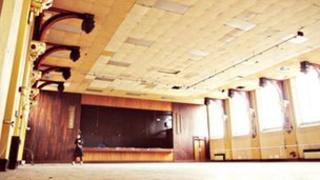 A final push is being made to urge Wakefield people to put money towards restoring a "landmark" building.
A community group is planning to turn the derelict Unity Hall on Westgate into a music, theatre and arts venue.
The group wants to raise £200,000 in a community share issue towards the £4.4m needed for the whole project.
Chris Hill, director of the community group Unity House (Wakefield) Ltd, said it was a "one-off chance to bring a great venue back to life".
The group has applied for funding from Europe and Wakefield Council to restore the building into a 650-seater venue, with meeting and function rooms as well as a cafe and space for independent retailers.
Anyone who chooses to buy shares will be paid interest of 6% from year three of trading.
The maximum investment is £20,000 and the minimum investment £200.
All investors would become members of the co-operative and would be celebrated in a piece of public art within the building.
Mr Hill said people donating through the share offer would "show the big funders the project has the backing of Wakefield people".
Wakefield Council leader Peter Box said: "I am very pleased that this co-operative has come forward with ambitious plans to renovate a landmark building at a key gateway to the city centre.
"The building has fallen into disrepair since it passed from council ownership into private hands and it desperately needs investment to bring it back into public use.
"It will bring jobs, opportunities and visitors into Wakefield and I hope people will share our confidence in the plans and buy shares."
The venue was built in the 1880s and played host to silent movies, wrestling and ballroom dancing, before staging rock concerts in the 1980s.