Bramley Baths to be run by local residents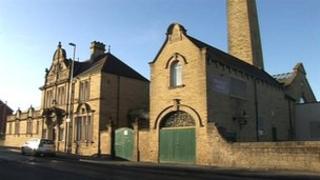 The running of a Grade II listed swimming pool in West Yorkshire is to be taken over by local residents following fears it could be closed.
Opening hours at Bramley Baths, Leeds, were cut by the city council in 2011, prompting The Friends of Bramley Baths to offer to take over its running.
Leeds City Council has now approved the move, with the Friends being granted a 25-year lease at a nominal rent.
The baths were a "special and important historical building", the council said.
'Much-loved'
Opening hours were cut at the pool in September 2011 as Leeds City Council faced making £90m of savings from its 2011-12 sport budget due to government funding cuts.
The move prompted the establishment of the Friends of Bramley Baths, led by former Labour MP for Leeds West John Battle.
Mr Battle said Leeds City Council's decision to give the go-ahead to the takeover was "a great result for Bramley".
"We're sure that with the support of local people, and with an opportunity to promote the baths in new ways to more people across the city and beyond, we'll be able to create and maintain a valuable space where people can meet, relax and be healthy," he said.
Opened in 1904, it is the only remaining example of eight bath houses originally built by Leeds City Council between 1899 and 1904.
Adam Ogilvie, Leeds City Council's executive member for leisure, said: "Bramley Baths is a very special and important historical building.
"This transfer offers the best chance for this much-loved facility to have a strong future."