David Hockney backs Bradford Odeon Cinema campaign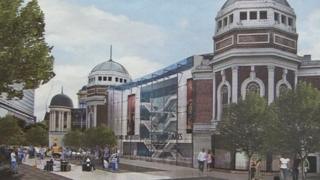 Bradford-born artist David Hockney has backed a campaign to save the city's former Odeon Cinema.
The Odeon, formerly known as the New Victoria, was opened in 1930 and closed in 2000. Its landmark facade has been left virtually untouched.
The Homes and Communities Agency owns the building and plans to demolish it but campaigners want to save it.
Mr Hockney said the "splendid building" could be used for "many imaginative things".
Hockney was born in Bradford and won a scholarship to Bradford Grammar School before going on to study at the Royal College of Art in London.
The subtitile of one of his paintings 'One Landscape, Many Views' has been adopted as the slogan for the city's regeneration masterplan, under which the demolition comes.
He said: "They should not pull anything more down in Bradford, especially that splendid building that could be used for many imaginative things.
"I support you in this. All the best in your campaign."
Music venue plan
Mr Hockney is the latest high profile person to support the campaign group's effort to save the 1930s building.
Earlier this week actor and director Lord Attenborough voiced his support on Twitter.
A spokesperson for the campaign grop said: "The fact that our most famous artist, whose very words are being used as the slogan of our regeneration, completely disagrees with the demolition, sends out a very clear message: the demolition is completely at odds with any sensible and caring vision of the city's regeneration."
Earlier this month the campaign group unveiled plans to turn the building into a music venue dedicated to the former Radio 1 DJ John Peel.
The Homes and Communities Agency inherited the cinema from Yorkshire Forward when it was abolished last year.
The agency said it is bound by a legal agreement made between Yorkshire Forward and a developer which wants to build a hotel, shops, restaurants and offices on the site. That project would mean the demolition of the building.