Murdered PC Sharon Beshenivsky's memorial relocated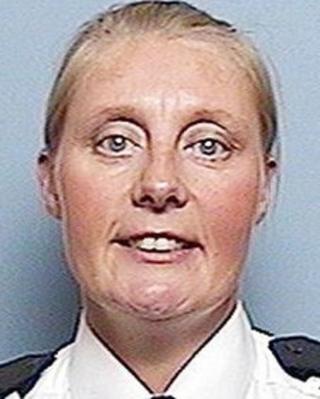 A memorial to murdered PC Sharon Beshenivsky has been moved in Bradford to join two more to former West Yorkshire police officers.
The memorials to Bradford's last Chief Constable Harry Ambler, Sgt Michael Hawcroft and PC Beshenivsky are now together in Norfolk Gardens.
A rededication ceremony will be held there on Thursday.
West Yorkshire's Chief Constable Sir Norman Bettison is due to attend the event.
PC Beshenivsky had been a police officer for just nine months when she was shot dead outside a Bradford travel agency, on 18 November 2005.
She had responded to an armed robbery call, with fellow PC Teresa Milburn.
Killed on her daughter's birthday, Mrs Beshenivsky became the first female officer in 20 years to be shot dead by a criminal in England and Wales.
New memorial
Sgt Hawcroft was murdered in 1981 while attempting to arrest two youths who were stealing a car.
Mr Ambler was the last chief constable of the Bradford City Police, from 1957 until 1973.
Three years ago, the National Association of Retired Police Officers cut a new memorial stone for Mr Ambler, replacing the original that had been damaged.
The organisation also arranged to position the memorials of Bradford's two fallen colleagues alongside it.
The original memorials to Sgt Hawcroft and PC Beshenivsky have been relocated from Centenary Square.
Family members, former colleagues, the deputy lord mayor and Councillor Mike Gibbons will also pay their respects at the rededication ceremony.
Sir Norman Bettison said: "One of the great strengths of policing in this country is the respect felt by the silent majority and the dedication given by the police officers in return."