Bronte-inspired garden wins Chelsea Flower Show gold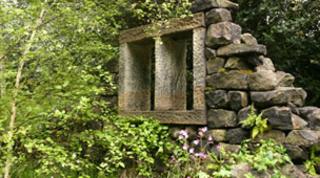 A garden which recreates the West Yorkshire landscape that inspired the Bronte sisters has won gold at the Chelsea Flower Show.
The Brontes' Yorkshire Garden by Welcome to Yorkshire features elements of the moorland characteristic of the Pennine Moors which surrounded them.
Designer Tracy Foster said it aimed to convey the emotional essence of the place that inspired the sisters.
Leeds University also won gold for its "bee friendly" garden.
The Bronte garden is based on a particular location often visited by the sisters, where a bridge now known as the Bronte Bridge crosses a moorland stream.
This is now a popular tourist destination, being located on the path to the location widely believed to be a key setting for Emily Bronte's Wuthering Heights.
Gary Verity, chief executive of Leeds-based Welcome to Yorkshire, said: "The Brontes' Yorkshire Garden will showcase to the world the wild and wonderful landscape of Yorkshire as a source of inspiration for some of the finest literary works of fiction.
"We hope it will encourage more people to rediscover this area of Yorkshire for themselves as well as seeing more of our county's wonderful gardens."
Leeds University's entry titled Gardening for Champions won gold in the environment category.
Dr Rebecca Slack, from the university's faculty of environment, said it was designed to show how people could make their gardens more attractive to bees.