Bradford councillors meet for first time since leader ousted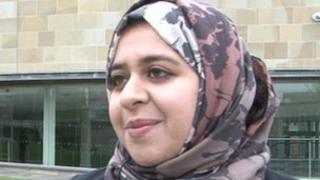 Councillors in Bradford have taken their seats for the first time since the council's Labour leader was ousted by Respect in the local elections.
The elections saw Labour denied an overall majority when leader Ian Greenwood lost Little Horton to Alyas Karmani, one of five Respect candidates to be elected in Bradford on 4 May.
Labour will continue to run Bradford Council with help from the Green party.
Respect's new councillors pledged to speak for everyone in their wards.
The party won five of the 12 council seats its candidates fought in the local elections in Bradford.
Its gains came just weeks after party co-founder George Galloway was elected MP for Bradford West with a majority of more than 10,000.
Labour saw the number of its councillors rise from 43 to 45, while the Conservatives and Liberal Democrats both lost three councillors each.
'Showcase talent'
Taking her seat on Bradford Council, Respect councillor Ruqayyah Collector said she hoped to be the "voice of the people" in her ward.
Ms Collector said: "I feel really strongly about the state of the city and that's why I've come into this.
"Bradford has a lot of talent, but we're hiding it. We need to really showcase that talent and I hope I can help with that process."
Ms Collector said she hoped Respect would eventually have enough councillors to be able to sit on every Bradford Council committee.
Ishtiaq Ahmed, Respect councillor for Manningham, said Bradford had suffered a "lack of leadership" for too long.
"A real strong voice was lacking. Some of the mainstream parties had taken our votes for granted," he said.
Mr Ahmed said combating social problems such as low educational standards, crime and drugs in Bradford would be his priority.
Mohammad Shabbir, Respect councillor for Heaton, said he wanted Bradford to be "as successful a city as it was in its heyday".
After his appointment as Bradford Council's new Labour leader on 9 May, David Green admitted the party had "lessons to learn" from the election results.
"We need to listen more to perhaps some of the groups we have not been in close contact with," he said.