Peter Renshaw admits causing Owen Wightman crash death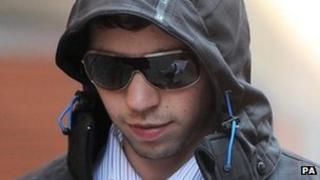 A driver has been warned he faces a jail sentence after he admitted causing the death of a six-year-old boy.
Peter Renshaw, 22, was driving a Fiat Seicento when he struck and killed Owen Wightman near his home in Wakefield, West Yorkshire, on 18 June last year.
At Leeds Crown Court, Renshaw, of Emley, Huddersfield, admitted causing death by dangerous driving.
The case was adjourned until Monday when a hearing will take place to resolve alleged "aggravating features".
Damage 'disguised'
Those include allegedly failing to stop at the scene of an accident and failing to report an accident.
It is also alleged that damage was inflicted on the vehicle post-collision "with a view to disguise what had taken place", the court was told.
Owen was struck by Renshaw's car while out playing with a friend close to his home in Fishpond Lane, Kettlethorpe, Wakefield.
In mitigation, Richard Clewes said his client, of Grange Drive, did not accept the prosecution's allegation that he must have realised he had collided with a pedestrian.
Judge Geoffrey Marson QC imposed an interim driving ban and told Renshaw he could expect to go to jail following the conclusion of next week's two-day hearing.
Renshaw was granted bail and will appear before Judge Marson at a Newton hearing - held when a defendant has pleaded guilty but the prosecution and defence disagree on factual issues - on Monday.