China signs up for Leeds Olympics Games training centre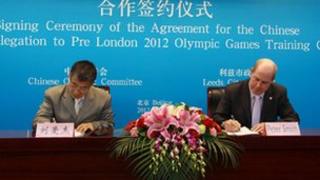 Leeds will host China's pre-Olympic Games training centre after an agreement was signed by the city council in Beijing.
Approximately 220 athletes, coaches and support staff will be based in the city from early July.
Leeds City Council said the hosting deal was worth £250,000.
The Chinese team will use a number of sporting facilities owned by the council, private sports clubs and the city's two universities.
The signing ceremony between the Chinese Olympic Committee and Leeds City Council finalised a deal that was announced in August 2011.
As well as the direct financial benefit of hosting the Chinese squad, Leeds City Council said it hoped the deal would provide "a major long-term boost to trade, commerce and tourism as well as strengthening cultural ties between Leeds, Yorkshire, the UK and China".
Speaking after the signing ceremony, the deputy director general of the sport department of the Chinese Olympic Committee Liu Aijie said: "The Chinese Olympic Committee sincerely appreciates the hard and fruitful work Leeds City Council has done on the preparations of the pre-Games training camp for the Chinese sports delegation.
"We are firmly convinced that the training camp of the Chinese sports delegation in Leeds will achieve great success with mutual trust, concerted efforts and friendly cooperation from both sides."
As well as the Chinese team, Leeds will also be hosting pre-Games training for the Netherlands swimming squad.