Bronte church in Haworth closes for repair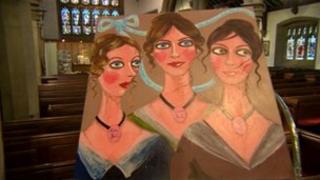 A church in West Yorkshire where the novelist sisters Charlotte and Emily Bronte are buried is to close for restoration.
St Michael and All Angels Parish Church in Haworth will close for 15 weeks while the roof and tower are repaired.
The first stage of the refurbishment, costing £227,000, is part of a five-year project, which will cost in the region of £1.25m.
A combination of public donations and grants have secured the building work.
Earlier this year, the church secured a grant of £115,000 from English Heritage after the cost of the building repair work soared.
The building has been targeted by lead thieves at least three times in the last 18 months, which has led to original wall paintings becoming water damaged.
The church said it needed to find a further £27,000 for the first phase of the restoration but was confident the money would be raised.
Reverend Peter Mayo-Smith, the priest leading the project, said any long-standing wedding arrangements for the church would be honoured.
Earlier this year, artist Stella Vine painted a portrait of the Bronte sisters to raise funds.
The Bronte family came to Haworth in 1820 and the church attracts thousands of visitors a year.