Westfield Occupy group agrees to meet council officials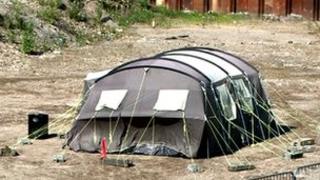 Protesters who have set up camp on a derelict site earmarked for a shopping centre in Bradford have agreed to meet council officials.
The group, Occupy Westfield, pitched tents on 26 May to raise awareness about the lack of progress on the Westfield retail development.
Work started in March 2004 but was halted in February 2008 leaving a building site in the city centre.
The protesters have agreed to meet with council leader David Green later.
Occupy Westfield had earlier said they would stay in place until Saturday.
Alias Yousaf, of Chambers Solicitors, which is representing the protesters, said they had now agreed to meet council officials at 10:30 BST.
The group said it had been inspired by the anti-capitalist movements in Leeds and Sheffield last year.
Westfield has said camping on the land was "counter-productive" and that protesters should instead help get positive messages about Bradford out to potential retailers.