Two horses die from heart attacks at Bramham trials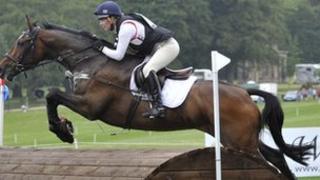 Two horses have died while competing at Bramham International Horse Trials in West Yorkshire.
Organisers said they both suffered heart attacks during the cross-country section of the event on Saturday.
Clea Phillipps' Lead the Way collapsed while jumping fence 14 and Jagganath, ridden by Michael Jackson, collapsed after the finish.
Ian Stark, course designer, said: "It was very sad for us and obviously very sad for the riders and connections."
Mr Stark said there was no way the deaths could have been avoided.
"It does happen occasionally, just like every now and again you get a footballer or rugby player that collapses on the field," he said.
"There may have been an underlying issue that we're not aware of but I don't know how we can avoid it, it's just like anyone else walking along the street."
Organisers said the event would conclude as planned.