Kirklees council strike hits bin collections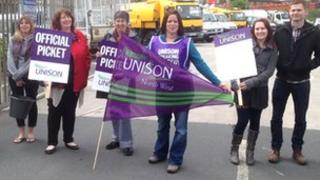 Waste collections in Huddersfield have been hit after striking council office workers picketed a bin lorry depot.
Administrative support staff from Kirklees council staged the picket at the town's Vine Street depot on Tuesday in a dispute over cuts to jobs and pay.
Bin collectors are not on strike but refused to cross the picket line to get to their lorries.
The council said the action, which means some bins will not be collected for a fortnight, was "disappointing".
Trade union Unison, which represents 430 of Kirklees council's 650 administrative support staff, is staging the three-day strike.
Speaking from the Vine Street picket line, shop steward Gemma Shearing said: "The only reason we are down here today is we are trying to have the maximum impact on the council.
"We want to hit the council where it hurts."
Wage cuts
The council said anyone in Huddersfield whose bins were due to be collected on Tuesday would have to wait for the next scheduled collection in two weeks' time.
As well as bin lorries, the depot disruption was also affecting bus services for disabled and elderly people and access to petrol for many council vehicles.
Ms Shearing said the union was in dispute over the council's business support review under which many office staff were suffering job cuts or being put on lower grades.
"Ninety-two per cent of us are women, 33% are part time," she said. "It's going to affect us big time if we are having to cut our wage by £3,000 or £5,000."
The union wanted reassurances that there would be no cuts in pay and no compulsory redundancies.
A Kirklees council spokesperson said: "We are supporting staff and continuing to do everything possible to avoid the risk of compulsory redundancies.
"It is disappointing that Unison are taking industrial action.
"We are still talking to them about implementation of the business support review and working with them to minimise the number of potential compulsory redundancies, a number which we have reduced to single figures."