Football fans wanted over Huddersfield disorder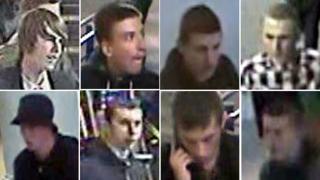 Police want to speak to eight men over disorder in Huddersfield which caused people to fear for their safety and led to major disruption on the railways.
Following incidents in Westgate and Market Street, a group chased each other through the railway station and down the tracks to Deighton.
As a result, 61 trains were delayed and seven cancelled. Police said scared shop owners had locked their premises.
The incident happened on 19 May, the day of the Championship play-off final.
West Yorkshire Police said the men involved were thought to be fans of Huddersfield Town, Bradford City and Leeds United.
The force has released CCTV images of the eight suspects.
A spokesman said the station disorder caused 893 minutes worth of delays and cost thousands in lost earnings, "a loss that is footed by the taxpayer".
Det Sgt Nick Doyle, of Huddersfield CID, said: "These mindless individuals caused ordinary members of the public to fear for their safety. Several scared shop owners locked themselves inside and one young man had to lock himself in the car whilst his grandma shopped nearby.
"Behaviour of this kind will not be tolerated and we will bring those involved before the courts. I urge anyone who has any information to the identity of the men pictured to contact us."