Kirklees strike could escalate without council meeting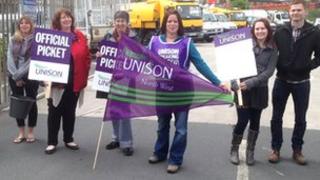 A union has warned industrial action could worsen if Kirklees Council leaders fail to meet for discussions over job cuts and pay.
Staff at the council are on the second day of a three-day strike, causing disruption to services.
Paul Holmes from Unison said the "dispute will escalate if they don't meet us".
The warning comes after the council cancelled a meeting it was due to hold with the union on 15 June.
Kirklees Council called the action was "very regrettable".
'Don't want dispute'
Unison, which represents 430 of Kirklees Council's 650 administrative support staff, is staging the three-day strike.
Mr Holmes said: "We were due to meet with the council on 15 June.
"They have waited until after the strike to see how it's gone.
"They've caused the dispute. We've been told that they've cancelled Friday's meeting because there are no councillors available."
"We've said we'll meet with the council, any time, any day. We want to meet them. We don't want the dispute."
On Tuesday refuse collectors who were not involved in the dispute refused to cross a picket lines which was based at the town's Vine Street depot.
The council said anyone in Huddersfield whose bins were due to be collected on Tuesday would have to wait for the next scheduled collection in two weeks.
The council said in a statement: "The review of administration seeks to redesign the business support to front-line services.
"The actions of staff from the refuse collection service are very regrettable as they are not involved in the review and have not been balloted to take industrial action."