Jobs boost in Leeds Thorpe Park expansion plan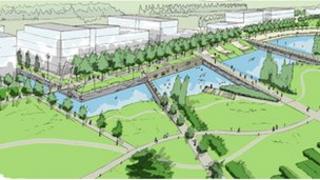 More than 6,000 jobs could be created as part of the second phase of development at a business park in east Leeds, developers have claimed.
Scarborough Development Group has drawn up a plan for a mix of business space, leisure, shopping and restaurants at Thorpe Park at junction 46 of the M1.
Current occupiers at the site include IBM, GE Capital and United Utilities.
A series of public exhibitions are running from 19 to 23 June to allow people to have their say on proposals.
The plans also include up to 25 acres of public open space within Thorpe Park that will link to the new 113-acre public park, Green Park, to the west of the scheme.
Mark Jackson, managing director for Scarborough Development Group, said: "Thorpe Park has the potential not just to boost the economy of the city region and help cement Leeds' position as a regional capital, but also to provide thousands of new job opportunities for local people built around a more diverse economy and range of uses on the park."
The public exhibition events will also give people a chance to decide what amenities and facilities should be available at Green Park.
The exhibitions are: June 19, Icon Business Centres, Thorpe Park; June 20, Colton Cricket Club, Colton; 21 June, Newman Centre, St Theresa's Church, Crossgates; June 22, The Manor House Community Centre, Scholes; 23 June, Colton Methodist Church, Colton.
A second week of consultations will take place in July which will include feedback from the first phase and how that has been incorporated in the proposals.