West Yorkshire Council review into flood response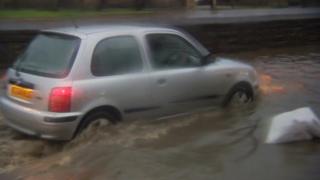 A review of the emergency response to the flooding in West Yorkshire which affected up to 500 properties is to be carried out, a council leader said.
Homes and businesses in Todmorden, Hebden Bridge and Mytholmroyd were flooded last Friday after a month's rain fell in 24 hours.
Some residents have criticised the local authority for its response.
But Calderdale Council leader Tim Swift said it "was an absolutely exceptional situation".
Sweet shop owner Bob Leedham, from Hebden Bridge, whose business was affected by the flooding, said: "I was bitterly disappointed because Mytholmroyd, which is the next town on, they all had the sandbags out.
"So the council obviously responded to Mytholmroyd's problem, gave them sandbags, we came back at 11 o'clock and there were no sandbags."
'Nothing left now'
B&B owner David Henry, 57, from Hebden Bridge, has been forced to close his business after his property was left under 5ft (1.5m) of contaminated flood water, costing £200,000 worth of damage.
"I'm still in shock and don't know how we're going to cope. We've no income now. All our life savings are in this building, so we've nothing left now," said Mr Henry.
Mr Henry said he did not "receive any help" and blamed the "drainage system" for the scale of the devastation.
Jonathan Stoker, managing director of a furniture shop in Mytholmroyd, estimates the floods caused £800,000 worth of damage.
He said: "The flood water got about 18 inches all the way through the property. It came through the front door and went out the back door. It's devastating. We've been on this site for many years and never had flooding like this before.
"I'm sure there's more they [local authority] could've done to mitigate it but you can't really plan for something so extreme. It's difficult."
Mr Swift said: "These really were unusual circumstances.
"One of the difficulties we had was getting facilities and staff along the valley road when all of them were flooded at the same time.
"We'll be looking very carefully at what happened. We want to make sure that we've got the right resources available in each of the individual towns."
The Environment Agency defended its flood response and said it was "difficult to stop flooding completely" when rainfall levels were so high.