Leeds General Infirmary to stop child heart surgery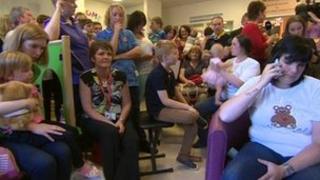 Parents have vowed to continue their fight to keep children's heart surgery in Leeds, after NHS bosses decided it should end.
An official review concluded Leeds General Infirmary should stop surgery so care could be concentrated at fewer, larger sites to improve standards.
Families in Yorkshire and the Humber region will instead have to travel to Newcastle or Liverpool for surgery.
Steph Ward, from Leeds, whose son was treated, said: "We will not give up."
Her three-year-old son Lyall Cookward will need further surgery in the future.
'Huge blow'
After watching the announcement with other parents and staff at the hospital, she said: "Every single person in this room will keep on fighting for this unit."
Campaigners fighting to keep heart surgery in Leeds had held protests and gathered more than 600,000 signatures on a petition.
Judith Raspin, who has also supported the campaign, said: "We will not give this fight up.
"We owe it to the thousands of children, parents and staff, everybody in Leeds that's behind us."
The children's heart unit will remain open as it will be allowed to continue seeing patients for diagnosis, monitoring and non-surgical treatment.
Mike Collier, chairman of the Leeds Teaching Hospitals NHS Trust, said: "I can't say how disappointed we all are.
"The big question remains, how can a fully functioning unit... with the massive support of the people of Yorkshire, how on earth can you close that and move it somewhere else?"
He added: "On geography and population density alone the case for Leeds remains as strong as ever.
"We will now carefully consider, with our supporters, what action to take."
The hospital's Children's Heart Surgery Fund said: "We will now appeal to the health minister as he assured us a decision would be made on clinical logic. This has not happened today."
Leeds City councillor Lisa Mulherin, executive member responsible for public health, said the decision would have a "serious and detrimental impact on ill and vulnerable children" across the region.
She said the council would be making an "immediate referral" to the health minister.
Greg Mulholland, Liberal Democrat MP for Leeds North West, said the decision was "deeply regrettable".
He said: "This decision will be a huge blow for all the staff at the unit and above all for all those families who rely on the excellent service that the Leeds unit has provided for so many years now."