Couple's home ravaged by Colorado wildfire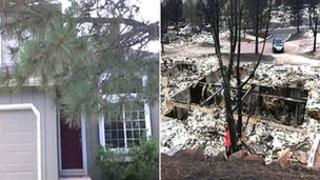 A man whose home has been ravaged by a wildfire in the US has spoken of his devastation.
Architect Andrew Crump, who moved from West Yorkshire to Colorado Springs three years ago, has lost his home and possessions in the blaze.
US President Barack Obama has issued a disaster declaration after tens of thousands of people were driven from their homes.
Mr Crump said: "It's very painful but we are glad to be safe and sound."
'Treasured mementoes'
Hundreds of homes have been destroyed by the wildfire, which started on 23 June and has claimed two lives.
Mr Crump and his American wife were among those evacuated and had to scramble to an area higher up to stay with friends.
The couple found out through television reports that their home had had been destroyed.
Mr Crump said: "It's been a huge, huge week but really we're just taking stock of what we've got.
"It's times like this that makes you focus on the most important things. My wife and myself are completely well."
Mr Crump said the couple had managed to salvage some things before their house was destroyed, but had lost "treasured mementoes" from family and friends in the UK.
He said they were insured and would be looking at the option to re-build on the same plot or elsewhere.
"Financially we're not going to suffer, it's just the other things that have gone. Some can be replaced and some can't."