Non executive directors quit Mid Yorkshire NHS Trust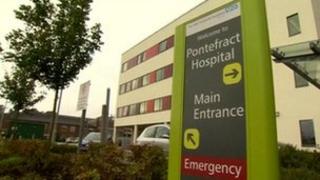 The non executive directors of a NHS trust have collectively quit the cash-strapped organisation.
Mid Yorkshire Hospitals NHS Trust, which covers Wakefield and the surrounding area, has to save £24m in the next financial year.
The trust is considering centralising emergency, acute medicine and maternity services at one site.
Now four non executive directors have quit over the impact of financial cuts at the trust.
In a statement David Stone, the interim chairman of the Mid Yorkshire Hospitals NHS Trust, said he understood the reason for their decision.
Finances 'worse'
Mr Stone said: "The non executive directors felt unable to remain in office after considering the continuing impact of the poor financial performance of the trust in 2011/12.
"Investigations conducted over the last few months have confirmed that the finances of the trust were considerably worse than had been reported to the board and that the trust is unable to meet the previously agreed plan to achieve Foundation Trust status by April 2014.
"My non executive colleagues have taken this decision in the best interests of the trust and I respect the integrity they have shown in taking this action".
The trust said it had held a meeting involving NHS Commissioners, patient representatives and local GPs to try to come up with ways "to help develop options for delivering local hospital services".
The trust has a deficit of £19.2m for 2011-12, despite receiving £14m in additional support from NHS commissioners.
It has a projected deficit for 2012/13 of £26m.
Earlier this year, the trust asked hospital staff to reduce their working hours and take unpaid leave to save money.