Clare Teal welcomes musicians to jazz big band auditions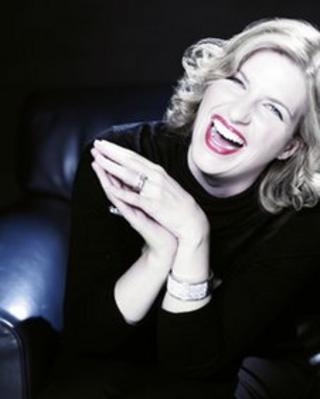 Musicians in West Yorkshire are being given the chance to play in a community big band with jazz musician Clare Teal at Leeds Town Hall.
The big band's public performances will raise money for BBC Children in Need and be recorded by BBC Radio Leeds.
Auditions will be held at the Leeds College of Music on Friday 27 July and Saturday 28 July.
Ms Teal said: "I'm absolutely convinced that Yorkshire is full of talent and I want my home county to do us proud."
Acclaimed singer
The members of the band will be a mix of ages, backgrounds and experiences but will all have some musical ability.
Acclaimed jazz singer, musician and BBC Radio 2 presenter Clare Teal, who was born in Kildwick near Keighley, is returning to her Yorkshire roots to build the band.
Her challenge will be to bring the players together to make a great sound in time for the performances.
"We're looking for musicians who play all the usual big band instruments - trumpets, trombones, saxophones, clarinets and flutes," said Ms Teal.
"We'll need a pianist, guitarist, bass player, percussionist and drummer. But we don't need it to end there. If you're a good player of something else - from bassoon to beat-boxing, French horn to violin."
'Have fun'
The singer will start recruiting the community big band from scratch and the process will be followed by BBC Radio Leeds from auditions and rehearsals through to the live shows.
All band members will have to perform in a Children in Need concert at the 1,200-seat Leeds Town Hall on the evening of Tuesday 30 October and live on Children in Need night on Friday 16 November.
To be part of the big band participants will need to play a musical instrument to Grade 5 ABRSM, or equivalent standard, and be able to read music.
Auditions are open, so you do not need to book a slot. Just come along to one of the sessions.
Potential musicians will need to prepare one audition piece of up to five minutes in length, sight-read a short section of music and have a short biography including details of musical background.
On the audition panel will be Clare Teal, Grant Windsor (musical director) and Alison Shaw (BBC producer).
If selected big band members will be required to attend three weekend rehearsals in October.
Ms Teal said she was "really excited" about the auditions and the upcoming concert: "I want us to have fun, celebrate music of all ages and to show what the great musical talent of Yorkshire can do."