Donald Campbell's medallion lost on golf course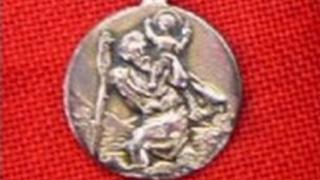 The daughter of Donald Campbell has appealed for help to find a lost medallion worn when he died trying to break the world water speed record.
Mr Campbell died in 1967 on Coniston Water, Cumbria, in his Bluebird K7 boat, wearing a St Christopher pendant given to him by his father.
His daughter Gina, of Thorner, Leeds, had worn it on a necklace since 2001.
She said she was "gutted" to have lost the medallion while playing golf in Leeds on 4 July.
"I use it as a good luck charm," said Ms Campbell.
"It's the closest thing to my dad and I wanted him close to my heart, I knew what it meant to him.
"This is what's hurting, I knew how precious that was to my father and I've gone and lost it."
'Most beautiful thing'
Ms Campbell said the medallion was attached to a cord and she only realised it was missing after returning home from the Moor Allerton Golf Club.
It was given to her father by Sir Malcolm Campbell during "the dark hours" of WWII, she said.
"It's the most beautiful thing. It's inscribed on the back: 'To Donald from daddy, November 1941' and my father never went anywhere without it."
Mr Campbell was 46 when he was killed attempting to break his own water speed record of 276.33mph (444.71km/h). He was travelling at more than 300mph (483 km/h) when his Bluebird K7 boat somersaulted in the air.
His body and remains including the boat and his St Christopher medallion were recovered in 2001 by a team of enthusiasts.