Jewish high school plan for Leeds approved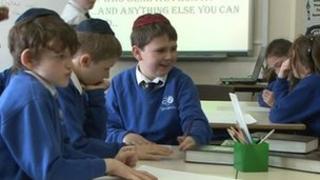 Jewish children in Leeds will no longer have to travel to Manchester for faith-based secondary education after plans for a free school were approved.
The Leeds Jewish Free School will open in 2013 as an extension of Brodetsky Jewish Primary School in Alwoodley.
Currently about 100 Jewish high school children make the 90-mile return trip from Leeds to King David High School in Manchester for a faith-based education.
Head teacher Jeremy Dunford said it was "fantastic news".
He said: "The Jewish community in Leeds have been after something like this for the last 20 to 25 years."
The school's first application was turned down and Mr Dunford said "hours and hours of hard work" had gone into making the second bid a success.
He said the school would have a "strong Jewish ethos" but would be open to the whole community and he believed it could help relieve some oversubscribed high schools in Leeds.
In total seven free schools in West Yorkshire and 102 nationally have been approved by the government.
Among the others is Bradford Girls' Grammar School.
The school, which charges about £11,000 a year, become fee-paying in 1976 but applied to become a free school after seeing pupil numbers decline.
'Overwhelming approval'
From September 2013 the school will be non-selective in its admissions procedures.
Headmistress Kathryn Matthews said: "Bradford Girls welcomes the opportunity to work closely with students of all ability.
"The school's traditional ethos, values and excellent education are amongst the most often stated reasons given by parents for their interest in the school as well as their overwhelming approval of its widening access.
"We will continue to combine these established principles with a contemporary education on behalf of every pupil at the school."
In Leeds, The Khalsa Science Academy, The Leeds Retail and Financial Services Academy and The Free School Leeds, which will cater for children with dyslexia, have been given the go-ahead.
The Northern Lights Primary School and Maltings Free College in Calderdale have also been told they can open in September 2013.