Leeds City Council approves Millgarth Police station purchase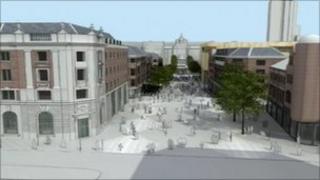 Plans to purchase and demolish Leeds' former police headquarters as part of a major shopping development have been approved by councillors.
The executive board of Leeds City Council said the purchase of Millgarth was a major step forward for the Eastgate development.
Eastgate is expected to deliver 130 shops and create up to 4,000 jobs.
The site would be used to provide car parking space for the adjacent development scheme.
Millgarth, which is owned by the West Yorkshire Police Authority, will become vacant when West Yorkshire Police move to their new divisional headquarters at Elland Road.
Keith Wakefield, leader of the Labour-controlled council, said: "It gives us the green light to go ahead with a major retail project. It will not only create 4,000 jobs but it is going to move the retail offer for the city.
"We will move from the eighth UK city for retail to the fourth."
No announcement has been made on when work on the Eastgate scheme is expected to begin.