John Lewis deal kick-starts Leeds Eastgate shopping centre plan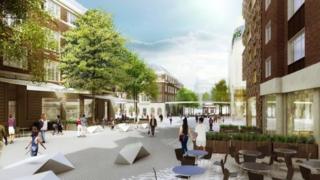 Department store chain John Lewis has signed a deal to anchor the £110m first phase of a retail development in Leeds.
The agreement with developer Hammerson means detailed plans can now be drawn up for the Eastgate Quarters scheme.
The first phase of the scheme will include 30 shops, up to six restaurants and a multi-storey car park on the site of Leeds' former police headquarters.
It could be open by 2016 if plans submitted to the city council next year are approved.
The first phase of the development, called Harewood and including the 24,000 sq m (260,000 sq ft) John Lewis store, would create two new shopping streets leading to the Victoria Quarter.
Luxury retailers
The police headquarters, Millgarth, will be demolished once West Yorkshire Police move to their new divisional headquarters at Elland Road in 2014.
Councillor Keith Wakefield, leader of the Labour-controlled city council, said: "This announcement is excellent news for the city centre and for Leeds as a whole.
"All the parties have been working behind the scenes for some months now to facilitate an agreement which enables work to begin on this important development. So to know that we now have a clear timetable from Hammerson is really exciting.
"Eastgate Quarters is a hugely significant development for the city which will enable our retail sector to compete with other British cities and attract international visitors and investors. It will bring thousands of new visitors to the city as well as creating a significant number of jobs for local people."
David Atkins, chief executive for Hammerson, said: "Leeds has an excellent reputation for high-end shopping and bringing John Lewis to the city will reinforce Leeds' position amongst both retailers and shoppers.
"I'm confident that the quality of the scheme and the strength of catchment means we will see encouraging demand from aspirational and luxury retailers currently absent from Leeds' shopping scene."