Leeds University plays host to Chinese Olympians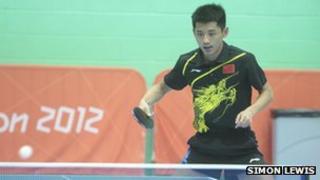 Yorkshire has been hosting some high-profile athletes as they prepare to move into the Olympic Village and turn four years of preparation into a short burst of gold-driven competition.
From brand new fitness equipment, to specially-trained chefs cooking food that is kept under lock and key, the athletes are finely honed for their Olympic bid for glory.
They might be competing in London, but athletes from around the world have been sampling a bit of Yorkshire.
In Leeds the students are long gone - but the Chinese Olympic team is staying at the city's university.
And down the M1 in Sheffield, USA Diving has been using Ponds Forge ahead of the competition.
'Try the Yorkshire pudding'
As the Chinese hockey team train in the driving rain at Wakefield Hockey Club, I tell director of coaching Norman Hughes the athletes have not yet tried Yorkshire pudding.
"Unbelievable isn't it? It's a complete gap in their education," he jokes.
The club, with the London Organising Committee of the Olympic Games (Locog) help, has paid for a brand new playing surface which is exactly the same as the one in London.
Mr Hughes adds: "We're delighted with the response we've had to the playing surface, they've been pretty impressed.
"It's a great Olympic legacy for the region let alone Wakefield."
When they get back to base in Leeds, they are among 250 Chinese athletes who are staying until their events.
Mirroring the approach at the hockey club, the University of Leeds gym, where the table tennis team trains, is decked out exactly like the venue in London.
The flooring is the same blue as London, the tables are laid out like they will be in competition and there is an orange border around the tables to mirror the London 2012 branding.
Food regulations
They have even got a speaker system to play out crowd noises during practice to make sure their players are ready for a London atmosphere.
Rob Wadsworth, university head of sport, said they had to make sure food cannot be tampered with - the strict doping rules of international athletics are never far from the athletes' minds.
Mr Wadsworth said: "It's vital we get it right, the real challenge has been security of the food.
"It has to go through rigorous testing.
"We have tested the transportation route and made sure it (the food) is locked-up correctly so it can't be tampered with.
"But do not expect what most people in Britain think of as Chinese food.
"It's a very different style of Chinese food, a beautiful style of Chinese food," he adds.
It is clear there has been a lot of money spent in Leeds to welcome the Chinese team but the university is very cagey about how much it has all cost, only saying that it is a commercial booking.
They do point out that the equipment bought in will benefit Leeds long after the athletes have left.
Yolanda is a Chinese student in Leeds who has volunteered to help her country's athletes.
She said: "I'm so excited, not only because they're from China.
"We've prepared for this for a very long time. It feels so nice to help them."
As the athletes file off to their events in London, the Chinese flags will be changed for Canadian ones.
Their Paralympic athletes are about to move in before students reclaim their digs later this year.