Leeds soldier Sheldon Steel was unlawfully killed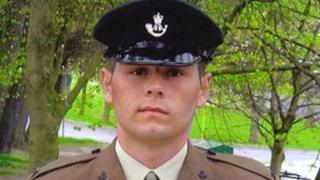 A soldier died after triggering an improvised explosive device despite 26 of his colleagues walking across the same piece of ground before him.
An inquest heard how Rifleman Sheldon Steel, 20, of 5th Battalion The Rifles, was killed in Afghanistan.
The soldier, from Leeds, was second-to-last in a line of soldiers on patrol in Helmand Province when the blast went off on 27 November.
Leeds coroner David Hinchliff recorded a verdict of unlawful killing.
The rifleman, described at the inquest as the best soldier in his company, was on patrol in Babaji, on the Lashkar Gah district, as part of a distraction operation.
As designated sharpshooter in the patrol, he was second-to-last in the line as the patrol crossed arable land near a pumping station.
The inquest was told Rifleman Sheldon suffered unsurvivable injuries in the blast when he stood on the IED.
Mother 'proud'
Mr Hinchliff said it was likely that the soldier's feet had strayed just a few millimetres from the foot marks of those in front of him, triggering the explosion.
The coroner said: "Twenty-six sets of feet going on that piece of ground. We are talking about big, burly soldiers with their kit.
"This is a matter of fate and irony and everything else like that.
"Why should it have happened at that moment?"
The coroner told Rifleman Sheldon's mother, Victoria Fulthorpe, that her son was "a fine young man - a very brave young man" and he paid tribute to soldiers who risk their lives in Afghanistan every day.
In a statement after the inquest, Mrs Fulthorpe said: "I am very honoured and proud to be his mother and proud of the achievements of his whole life.
"And to add a big thank you to the Army and 5 Rifles. They have been very supportive all the way through.
"I wish you all health and happiness and safety in your lives. Keep being the heroes you are.
"Me and Sheldon are so proud of you all."