Funeral held for baby found at Shipley waste site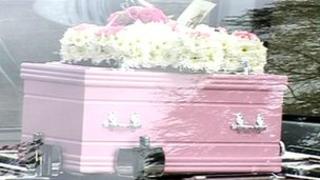 A funeral has been held for a baby girl found dead at a West Yorkshire waste site more than a year ago.
The baby, aged two or three days, was found by staff at the Associated Waste Management depot in Shipley.
A local mother and toddler group organised the funeral for the girl, whom they named Catherine.
She has not been identified and police are still trying to trace her mother. The service was held at St Winefride's Church in Wibsey, Bradford.
DNA profile
It was followed by a burial at Scholemoor Cemetery, where Catherine, who was described by police as white, was laid to rest near to other babies.
The coroner released the infant's remains after initial attempts to find the girl's mother were unsuccessful.
Donna Fenton from the community group which helped organise the funeral, said: "We've come together to bury Catherine with dignity and respect. We're not here to judge - we're here to lay a baby to rest.
"We hope it brings the mum some comfort. And the guys [at the Shipley depot] went through so much when they found her - it will give them some closure."
West Yorkshire Police have sent 37,000 letters to homes in Bradford, Leeds and surrounding areas which supply waste to the depot to appeal for information.
Scientific work provided officers with a DNA profile of the child, although a matching profile of her mother was not on record.
It is believed the baby's delivery did not take place in a hospital and a post-mortem test failed to ascertain a cause of death.
Det Supt Sukhbir Singh, who is leading the police investigation, said: "We are glad young Catherine has now been laid to rest, but today's ceremony does not in any way mark an end to our search to find her mother.
"We have always said the answer to this inquiry lies within the local communities in West Yorkshire and continue to believe that is the case.
"Catherine may have only had a very short life, but she deserves to be remembered and we would again ask her mother to come forward, speak to us, and identify her daughter."