Huddersfield Crematorium delays to cut pollution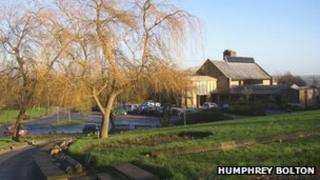 Bereaved families in part of West Yorkshire could face delays in arranging cremations while equipment is installed to cut mercury emissions.
Huddersfield Crematorium will be closed between 20 August to 6 September as filters which cut emissions from tooth fillings are installed.
Kirklees Council said it was working with neighbouring crematoria to try to keep delays to a minimum.
Legislation requires all authorities to cut emissions by 50% by December.
A spokesman for Kirklees Council said the existing flue system and associated fans would have to be stripped out and there would be "considerable building work and disruption".
Councillor Peter McBride, cabinet member for the council's Streetscene service, said: "This is essential work and will ensure that the crematorium meets all environmental requirements.
"Dewsbury Moor Crematorium will be operating as normal through the closure period at Huddersfield and Kirklees Bereavement Services will liaise with all crematoria in neighbouring authorities to ensure any funeral delays are kept to a minimum."